Kinetico Premier Series Water Softeners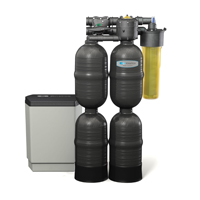 Kinetico Premier Series water softeners are on the cutting edge when it comes to water treatment. Depending on the state of your water, the Kinetico Premier Series is designed to adjust to your specific needs. Our multiple-tank design will ensure you have a constant flow of soft water, without wasting salt.
With our patent-pending AccuDial feature, you can make precise adjustments that cater to the specific condition of your home water. This allows you to save money while having your Kinetico Premier Series water softener working at optimum efficiency. The Kinetico Premier Series is also non-electric. This means you don't have to worry about setting timers, programming or maintenance. The Kinetico Premier Series water softening system is built to be self-sustainable.
Whether you're looking to purify well or city water, Kinetico has the water softener that can handle your most challenging water conditions. Besco Water is an approved Kinetico dealer, so contact us today and we will provide you with a reliable, long-lasting water softening system at a competitive price.